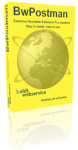 BwPostman is a complete and extensive newsletter extension for Joomla!® 4. Despite the manifold possibilities handling BwPostman is easy and intuitive.
Current version is 4.2.6
BwPostman main features:
Create Newsletters
You can compose the content of the newsletter with free text and articles that are already written in Joomla!®.
You can use selected content plugins at articles of Joomla!® in Your newsletter.
Sending of up to 20 attachments with the newsletter.
The newsletters can be personalized.
The campaign manager in BwPostman enables you to combine newsletters to a campaign that belongs together.
BwPostman always generates the newsletter in HTML and in text format.
Extensive template system for easily adjusting the appearance of newsletters. Provided templates may be copied and adjusted or you can create completely free templates for the newsletters (very big thanks to Karl Klostermann!).
Manage Mailing Lists
In BwPostman you can create as many mailing lists as you want and so you can get different mailing lists for every thinkable constellation of recipients (guests, registered users, issue...).
You can import subscribers from a CSV- or XML-file. So you can i.e. export the address book from a mail program and import it in BwPostman. Export of subscribers is also possible.
Batch processing of subscribers (add to further mailing list, delete from mailing list,move between mailing lists)
Adaptions
User-defined texts for activation mail and legal informations.
Webmaster or another person may be informed per mail at each confirmation.
Author and created date of articles of Joomla!® may be deselected in settings.
For the front-end predefined CSS styles may be overridden by self-defined CSS file.
Spam Protection
Arrangements against subscriptions by robots with a simple math task or as user defined question, adjustable in settings.
Maintenance
You can archive subscribers, newsletters, mailing lists, campaigns and templates and restore it from the archive.
A special property is the possibility to adjust, how many mails will be sent at once.
Tables of BwPostman can be saved and restored.
Tables of BwPostman can be checked and repaired.
Migration to another Joomla!® Installation is possible conditionally.
Extensions
Module for newsletter subscription.
Module for monthly overview of newsletters in front end with many and varied option.
Plugin for enhanced personalization contained in package.
Plugin for subscription to newsletter while account creation for the website contained in package.
Plugin to display mailing lists/user groups and number of recipients at footer of newsletter contained in package.
With the plugin BwPostman TimeControl You are able to send Your newsletters to the desired and optimal moment, buy separately
Plugin for subscription to newsletter while data for invoice are entered to Virtuemart, buy separately.
Support
Detailed integrated assistance
Detailed online manual in German and English
Detailed PDF manual in German and English
Fast help at the forum